Yorkshire Visitors Guide – All you need to know about Yorkshire
Yorkshire Visitors Guide has been built to bring together into one place, a visitors guide with everything you need to research and plan your visit to Yorkshire. While you're about it, my hope is that you will thoroughly enjoy discovering the many varied aspects and delights of England's largest county. Along the way – to whet your appetite as it were – I'll share with you some of its secret gems – such as:
But you really should come and discover for yourself, see and feel with your own eyes and senses the myriad jewels woven into the rich tapestry of life here.
Born and bred in the West Riding, my life to date has been spent here – except for a brief five year period devoted to a desire to see something of the world. Then, my wish was to escape the valley of my birth, teeming, as it was, and still is, with the urgency of life, fun and industry. Now, I've returned to experience anew, the warmth, hospitality and beauty. To gaze with fresh eyes once again upon the vast moorlands, rural dales and industrial valleys. To view it all as a visitor might – but tinted now with the knowledge of the native and the understanding of maturity.
God's Wonderful County
"My" valley, the Aire Valley, is just a small part of God's Wonderful County. That's what the folks around here call our county. As a welcome visitor you will surely experience the warmth of our people and the thrust of our industry. Feel yourself being carried along by our uplifting joy of life, as we throw ourselves into the many and diverse leisure attractions.
Why come?
Well! … You might visit us with an eye to our long and fascinating history, reaching back, as it does, over two thousand years and more, into the swirling mists of pre history. You may seek enjoyable holiday pursuits along our North Sea coastline. Maybe you need a dose of retail therapy in our cosmopolitan cities. How about simple rural pursuits such as walking, cycling, climbing and para-gliding? Para-gliding? – Well yes, if that's your thing!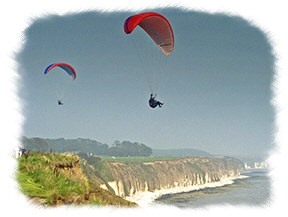 Valleys and Stately Homes

The valleys of the industrial West Riding have mostly shrugged off the mantle of those dark satanic mills and face a brighter future of ever greater leisure and prosperity for the folks who dwell there. Improvements and progress aside, you'll hardly fail to wonder at the stark contrast between the gritty Pennine villages, their houses and shops, pubs and workshops huddled together up and along the steep valleys, compared with the wide open spaces of the grand, ancestral estates and stately homes of the North Riding. Castle Howard, for example, is an 18th century stately home complete with the "Wow" factor, surrounded by wonderful gardens and a 10,000 acre working estate, Lying in the fertile Vale of York, just fifteen miles north east of the City of York – it's well worth a visit.
Cities and National Parks
Our county town, the City of York, is famous worldwide for its magnificent York Minster and near complete circuit of medieval walls. More than two thousand years of history is crammed into the area surrounded by its walls, waiting for you to explore and discover. The Vale of York is flanked to the East by the high, bleak landscapes of the North York Moors National Park and to the West by the numerous hills and valleys of the Yorkshire Dales National Park. Both are areas of outstanding natural beauty – each having its own unique character and appeal. Your visit would not be complete without seeing one or the other national park – or why not both?
Go on – click the links! Have a good ol' nosy around!