Yorkshire Towns and Cities
It's All Here – Come and Get It!
What is it about Yorkshire towns and cities that draws so many people? What would draw you? Do you seek out urban areas to indulge your passion for shopping? Are you a theatre buff? Do you crave a fitness fix? Perhaps the breathtaking lines of an architectural masterpiece will inspire you to wax lyrical? Or does the buzz of being among thousands of individuals playing, partying, working, walking, running, living out their lives, turn you on?
The towns and cities of Yorkshire will spoil you for choice with "In Town" shopping centres and "Out of Town" shopping malls. Nationally and Internationally renowned, well-loved theatres – old and new cater for every taste and form of culture. Sports centres, leisure complexes and fitness spas abound. High class restaurants, pubs and night clubs help folks party far into the night – and excellent hotels are there to soothe a weary head when you're exhausted.
City of York
Perhaps the best known and certainly the oldest of our cities is The City of York – the capital city of Yorkshire – one time second city of England. The ancient walls of the City of York encompass an arena – a melting pot – witness to more than two thousand years of turbulent Yorkshire history. Today's York is a vibrant city catering to the needs and entertainment of its citizens and millions of visitors. Both old and new buildings of the City of York are still dwarfed by the awe-inspiring bulk of York Minster.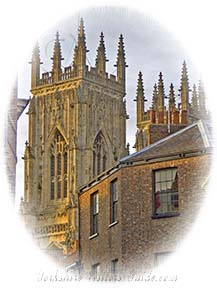 Modern City of Leeds
The cosmopolitan city of Leeds has come so far from its textile and manufacturing roots in the Industrial Revolution. Today it's a place of vibrant spaces and modern service industries. It is widely acknowledged as the financial capital of the North and the premier city of Yorkshire. Click here to read more about Leeds . There is so much to see and do here. With outstanding travel links it makes a great central base to explore the whole of Yorkshire…
Ancient town of Pickering
One of the delightful rural Yorkshire towns, Pickering is a picturesque and busy market town on the southern fringes of the North York Moors. A marvellous central base from which to discover the many and varied attractions round and about. Not far from Scarborough on Yorkshire's East coast and with a theme park and zoo virtually on the doorstep, you'll find that Pickering offers many things for many people. Click here to find out more
Dramatic Knaresborough
I can predict that a visit to Knaresborough will be very satisfying. Perched high atop a sheer cliff on the edge of a precipitous ravine this town looks down on Mother Shipton's cave. Famous for her many uncanny predictions she is remembered here for her days spent living in her cave. One of the smaller Yorkshire towns, Knaresborough has a unique character all of its own. Click here to find out more .