Grosmont
Steam Trains and Ironstone!
Grosmont is a very small village, deep in the heart of the national park, best known these days for the railway that is such a big part of it. Grosmont station forms the Northern limit of traffic on the North Yorkshire Moors Railway – although from 2007 the railway society have earned the right to run trains through to the coast at Whitby.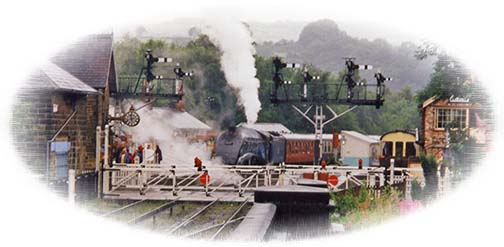 The station has been completely restored as a replica of a British Railways station of the 1960's, when steam was being phased out on the British Rail network in favour of diesel power.
A short walk from the station will take you through a pedestrian tunnel to the locomotive sheds. This is where you can get an up close and personal look at the steam engines and rolling stock used on the railway.
You won't be disappointed with the countryside around Grosmont with beautiful hills and valleys as far as the eye can see. The rolling countryside is covered in a variety of thick, green trees and delightful wildflowers. There are plenty of trails to take you on an exploration of the various hills and valleys. Be sure and take your lunch for a wonderful picnic along the way
Another of the great, long distance footpaths, the Coast to Coast, passes through Grosmont. 190 miles of footpaths following existing rights of way take the hardy walker from St. Bees Head on the West coast through to Robin Hood's Bay on the North Yorkshire coast in the East.
Low Bride Stones and High Bride Stones are great attractions you don't want to miss. The Low Bride Stones are a formation on a terrace with a confusing pattern of small stones. The High Bride Stones form a line of five standing stones. Many experts have given their opinion as to the meaning of these stones, but the true meaning still remains a mystery. Is there a meaning to them, or simply the natural layout of the land? Draw your own conclusions – or not – once you've seen them.
Grosmont grew around what became a prosperous ironstone mining settlement. The ironstone was discovered during construction of the Pickering to Whitby railway in the nineteenth century. Indeed the industrial terrace houses seem very much out of place in this now rural environment. You will be able to explore what remains of the quarries and mines, a testament to the history of Grosmont.
The Station Tavern is a wonderful place to enjoy fun, food, and drinks. There is also a separate family room where families can enjoy a wholesome meal in front of a real fireplace. The village has other delightful restaurants, cafes, and tea rooms to choose from.
The village of Grosmont is one that your entire family will enjoy. The atmosphere is very relaxing and family oriented. This is a great place to take in a variety of attractions while enjoying the gorgeous scenery.