Aysgarth in Wensleydale
Industrial Heritage
Aysgarth is a very small, delightful village located between Leyburn and Hawes in Wensleydale. Dig into the depths of this village's past and you'll reveal an important milling heritage. You'll be in awe of the beautiful scenery. Thousands of visitors are attracted each year to see the gorgeous waterfalls as they thunder through the spectacular gorge, carved out by the River Ure. The Aysgarth Falls have been featured in many movies, magazines, and paintings, notably the Kevin Costner film, Robin Hood, Prince of Thieves.
If you enjoy being outdoors, Aysgarth is the place for you. Everything is very quiet and lush here. Take relaxing walks along the trails. Stop for a nice picnic or to watch the waterfalls. Find a cosy tea room along the way for some refreshment.
The village has a small selection of gift shops, but here you'll find some of the best items in the area. There are collectables, hand made crafts, and beautiful jewellery. You will also find homemade breads and sweets.
The Edwardian Rock Garden is a lovely sight to see. It's available for your enjoyment at no charge. Take your time exploring its beauty or enjoy a free guided tour. You will find several rare plants thriving here. The garden is colourful with various tulips and daffodils paving the way. The rock garden was renovated in 1998 and great care was taken to preserve its beauty and history.
The George and Dragon Inn is one of the best places to stay in the village. A great pub for fun, entertainment, and a variety of drinks. The Palmer Flatts Hotel offers a tea room for you to enjoy while taking a break from the other attractions in the area. There are plenty of great holiday cottages, hotels, and bed & breakfast locations around Aysgarth to choose from.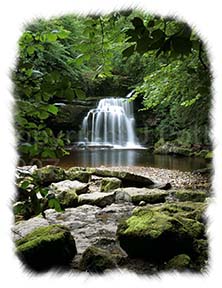 Just down the road lies the tiny, tranquil settlement of West Burton. Among the picturesque buildings around the village green you'll find the home of the Moorside Cats. The Cat Pottery has a delightful selection of cat sculptures for you to browse and buy – all created by the skillful hands of the pottery's owners.
Aysgarth is a very small village that can boast some great attractions. You'll love this quiet village for its comfortable atmosphere. The food, accommodation, attractions, and scenery offer you an experience you won't forget in a hurry.
Return from Aysgarth to Yorkshire Dales