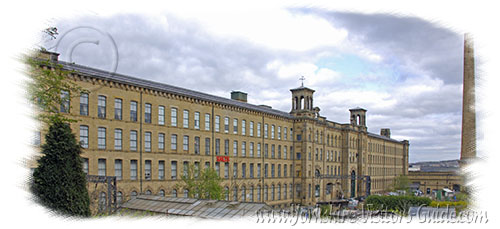 Saltaire
World Heritage Model Village
Born just across the road from Saltaire, I've lived much of my life around and about this village created by Sir Titus Salt for the workers of his Salts Mill. Indeed, for a period in the 1960's, I toiled in the Salts Mill weaving sheds as a weaver of fine worsted cloth! I've always liked the idea of its streets being named for its founder's children and that it was created as a purpose-built, complete community – but I never thought of it as being particularly special. You tend to place a low value on things and places that are familiar! However, it is now, rightly, recognised as "having outstanding universal value" – to quote from the World Heritage website. In 2001 the United Nations Educational, Scientific and Cultural Organization (UNESCO) added Saltaire to its list of more than 800 World Heritage properties worldwide.
Proudly taking its place alongside such gems as Old Havana and its Fortifications, Venice and its Lagoon and the Imperial Palaces of the Ming and Qing Dynasties in Beijing and Shenyang, the tiny village of Saltaire is a little bit of Italy transplanted into the industrial north of England. Many of its buildings have an Italianate air to them. Indeed the mill chimney is modelled on the campanile of a church in Venice!
The brainchild and creation of Victorian entrepreneur and philanthropist, Titus Salt, the village grew around his new, massive and revolutionary textile mill. More than 3,000 people were employed at the mills in Saltaire. Offered fair pay and good working conditions, the workers produced 30,000 yards of cloth each day. Saltaire has a very pleasant feeling of completeness and must have been like a breath of fresh air in the mid 19th century. At a time when the northern industrial cities such as Bradford and Leeds were being overwhelmed by their own squalor and excrement, Titus Salt, already a very successful Bradford mill owner, decided to move, lock, stock and barrel into the countryside.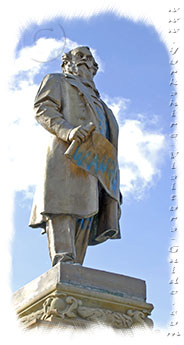 In Saltaire he was to provide his workforce with everything needed to sustain life. The mill was to be a means for the family to earn a living. His streets of modern houses gave shelter and comfort. Shops provided sustenance. A school to educate and a community hall for meetings and social gatherings. A church to feed the soul on the Sabbath and a park in which to enjoy sport and outdoor pursuits in free time. A bath house because he believed that "Cleanliness is next to Godliness". A hospital to tend the ill and injured. Although modern for its time, the mill and its workshops were the scene of many nasty accidents – some fatal! He even provided almshouses for his elderly ex-workers! Due to his strong religious beliefs he was adamant, however, that the village would be alcohol free! In this latter respect, for 150 years his wishes were honoured and only now is there a wine bar to be found.
Following Sir Titus's death in December 1876, his long-time friend, the Reverend R. Balgarvie took on the task of writing his biography. You can download or read this book by going to my free download page
Salts Mill was built alongside the Leeds and Liverpool canal, taking full advantage of the cheap transportation it provided. Water from the River Aire was plentiful and a weir was built to ensure a ready supply. A new mill was added later on the opposite bank of the canal on land between it and the River Aire. Three years after opening the original mill the Midland Railway opened a station at Saltaire.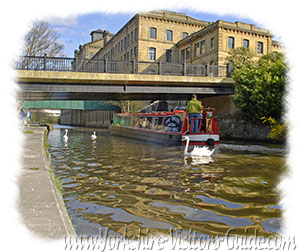 Canal Walk from Saltaire to Bingley
I always enjoy the gentle walk along the canal towpath from Saltaire to the world famous Five Rise Locks near Bingley. This is a picturesque, three mile stroll that can be walked both ways. Or, if time is pressing, you could catch a bus or train for the return. Find out more about the canal walk from Saltaire to Bingley Five Rise Locks here
Today the village is visited by thousands of people from across the world and you're sure to enjoy a stroll around the streets of workers' houses – now all privately owned. Each turn opens up a new vista of beautifully sculpted, golden sandstone gable ends, door jambs and window frames.
Victoria Hall was built in 1871, giving villagers a place to read, attend meetings and enjoy other social gatherings. Today you can explore Victoria Hall and all it has to offer including art and sculptures. There are four wonderful sculptured lions in front of the hall and the old Salts Grammar School opposite, across Victoria Road. Their names are Vigilance, Determination, War, and Peace. When I was a youngster, my grandad told me when they hear the church bells chime midnight they each leave their podium and walk down to the River Aire for a drink!
The exquisite architecture of Saltaire is no better showcased than in the United Reform Church. Built in 1859, this building is of historical importance as it is classified as the Cathedral of Congregationalism. Sir Titus Salt is buried here in the Mausoleum. It is a fitting symbol of the faith and heritage of Saltaire and considered the most completely Italianate church in England. The entrance includes six Corinthian columns with a cupola tower. Inside you'll find glass chandeliers and beautifully designed walls. Perhaps the best feature of the church is the organ that was installed in 1890. The Church is still used for worship and it is open to the public the rest of the week.
To cross the river nowadays you'll have to use the footbridge but before the 1950's Victoria Road bridged the River Aire to the entrance of Robert's Park. The road bridge was closed in the 1950's and was dismantled in the 1960's because of its dangerous condition. You can still see the bridge portals at the bottom of Victoria Road and across the river by the park entrance. Once inside Robert's Park and walking between the river and the more formal flower gardens you'll find wonderful open playing fields with the cricket square of the Saltaire Cricket Club at the western end. A gigantic statue of Sir Titus Salt stands proudly atop the Half Moon Cafe. He stands with his back to his wonderful village – posing for you to photograph perhaps?
Salts Mill today houses a number of artistic galleries – most notably the 1853 Gallery which houses the largest collection of works by Bradford born artist David Hockney. You'll find a number of high quality retail shops including a fantastic collection of fine arts and antiques for sale. For the hungry there is also a diner offering light snacks and a good menu of hot meals. Look out for the "Specials". A part of the mill is set out as a museum, giving you a feel for the history of this rather unique village.
A day out in Saltaire will give you lots to think about as you try to imagine how the mill workers and their families went about their daily toil 150 odd years ago. You'll enjoy a pleasant walk through some beautiful parkland and maybe a stroll along the canal towpath or river bank.