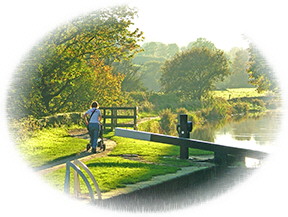 There are many canal walks in Yorkshire for you to choose from – just as there're many canals. This must be the best way to see and be part of the delightful countryside. All of the Yorkshire canal walks will take you through some of Yorkshire's most beautiful scenery.
Huddersfield Narrow Canal
Englands highest – passes through the most picturesque countryside for much of its length. Thomas Telford, the renowned British civil engineer, was drafted in at a late stage of its development and oversaw its completion in 1811.
This must have been the most technically challenging of all the Yorkshire canals. Built as a short route over and through the Pennines to export the produce of the developing mill towns, it enjoyed a relatively short profitable life. It was bought out by and amalgamated with the Huddersfield and Manchester Railway in 1845. The walk today, along its towpath is very do-able with a number of options… A Colne Valley Walk – Taking the Towpath Way
Leeds Liverpool Canal
Englands longest – climbs the Aire Valley from Leeds passing through the World Heritage Site of Saltaire Village and Skipton – Gateway to the Yorkshire Dales. If you're very energetic, the entire 127 miles may be calling.
But there are many stretches that beg you to stroll along for an hour or three while enjoying views of the rolling hills and sleepy villages. One of the nicest is a gentle stroll between Saltaire and the Bingley Five Rise Locks
But the canal walks in Yorkshire also provide a unique insight into our long forgotten industrial heritage, affording a glimpse of days long gone. Many of the canals of Yorkshire survive alongside once noisy, dirty mills now lying neglected and crumbling. There are, however many examples of old mill regeneration – designer outlets and posh apartments. But you'll also find numerous mills housing successful, industrious firms carrying the textile industry into the twenty first century.
Make the most of the canal walks in Yorkshire as they take us through some really scenic locations. With a little imagination they also feed the mind with ideas of how life must have been for the canal folk – entire families – who lived out their lives on the cargo barges of yesteryear.